Events
What's happening in your state:
New South Wales
Events in New South Wales
Metro Sydney
6 April - Race to End Youth Homelessness 
Are you ready to use your power for good? Calling all social change makers, social idealists and activists. Uncover your inner powers to help end youth homelessness in the City of Sydney. The Race to End Youth Homelessness is a team-based treasure hunt that replaces hard challenges with fun experiences and works to end discrimination against homeless youth. Hosted in Sydney's Botanical Gardens teams will work through five checkpoints and obstacles to reach the finish line. Get more information by .
Details: 6 April, Royal Botanical Gardens, Sydney, 11am-2pm, FREE
Contact: Grace Stubee,
10 April - World's First "Sleep in Your car" Event
Fusion Western Sydney will be holding the World's First "Sleep in Your Car" night in Bowler's car park in front of Fusion Western Sydney at 12 Carson's Lane, St Marys. The Fusion HUB Cafe will be staffed by volunteers so you'll be able to get a coffee and a snack.
Details: 10 April, Fusion Western Sydney Car Park, 12 Carson's Lane, St. May's, 5pm-8am, FREE
Contact: www.sleepinyourcar.org
10 April- Big Freeze & Community Day
From 10am until 3pm, workers from local youth services Project Youth, Jacaranda Cottage and The Bridge Youth Service will be in Cronulla Mall providing information to the public about youth homelessness and what people in the community can do to help.

There will be Cronulla Sharks players at the event and also a local young dance crew who will be performing.

Anyone and everyone is invited to visit the stall before 1pm to register for the 'Big Freeze' frozen flash mob at 1pm. Anyone who registers will go into the running to win prizes. Registration is free.
Details: 10 April, Cronulla Mall, 10-3pm, FREE
Contact: Leah,
Gra

fton
10 April- Grafton TAFE Concert & Sausage Sizzle
TAFE Students are raising awareness about Youth Homelessness by holding a Concert and Sausage Sizzle on Campus. Students from the TAFE Music Course will be performing and we will have a sausage sizzle to fill empty tummies. There will be local Community Organisations there to offer loads of information to Young People, Young TAFE students are involved in a Poster Making Competition to be displayed and judged by their peers on the day, students have created a fun way to complete a survey involving flying paper aeroplanes into a recycled cardboard house, and the TAFE library will be 'online' with a comfy couch to sit on while you 'take the pledge' to stay at a friends, sleep on the porch, or crash on the couch.
Details: 10 April, Grafton TAFE Campus, 11:30am-1:30pm
Contact: Margaret Strong / Cassie Hollingworth Ph:
Penrith
10 April- Couch Monopoly Event
Penrith will be hosting the Youth Homelessness Matters Day 'COUCH MONOPOLY EVENT'. Lets all play to help beat homelessness! Teams will be registering to race around the streets of Penrith to collect monopoly houses and complete challenges to then be the first team back to GO to win! This will be a chance to locate Penrith services that help youth homelessness and also a fun way to spread the word of this cause. COUCH MONOPOLY will host afterwards FREE entertainment & food and a chance to meet a few people who are in the public eye.
Details: 10 April, Penrith CBD (Meeting point at 'The Mondo', between Westfield and The Joan)
Contact: Michelle (Reconnect Worker), Nepean Adolescent & Family Services (Wesley Mission), ,
Port Macquarie
10 April- Youth Homeless Orienteering
This activity is aimed at engaging politicians, CEO's and local celebrities to experience a day in the life of a homeless young person. Participants will be given a resource kit providing them with their new identity as homeless young person. They will then begin the task of trying to secure temporary accommodation for the night. Participants will be followed by "shadows" - young people who will record their experience and relay information back to 'Headquarters' (event organisers).  Participants will be interviewed regarding their experiences when they return. 
Details: 10 April, Town Green, Port Macquarie, 12:15pm- 3:30pm
Contact: Peter Carnaby, Youth Housing, 02  
10 April- Bed & Couch Races
The team Bed and Couch races will be held on Town Green. It will be a fun activity drawing attention to the large number of homeless young people "couch surfing".
Four people to a Team, with prizes on offer for best dressed teams, signs and overall effort. There's even a trophy up for grabs people!
Details: 10 April, Town Green, Port Macquarie, 4pm- 5pm
Contact: Peter Carnaby, Youth Housing, 02
10 April- Sleep Out
The overnight sleep out aims to help people really understand what it's like to be homeless and sleeping "rough", by experiencing it firsthand.
The Youth Homelessness Committee is inviting people to join us for the night to sleep on Town Green. This is not a pleasant experience, exposed to the dark, the elements, the strangers milling around town, but it is REAL. To ensure the safety of those participating in the Sleep Out we have hired a security guard to be on site from 7pm to 6am.
Details: 10 April, Town Green, Port Macquarie, 7pm-6am
Contact: Peter Carnaby, Youth Housing, 02
Byron Bay
10 April- Open House at Byron Bay Youth House
To raise awareness and public discussion about youth homelessness so
that we can develop sustainable and innovative solutions for not only
supporting the needs of homeless youth, but supporting the dreams of
homeless youth. 
Details: 10th April 2013, Byron Bay Youth Centre, 5pm- 8pm
Contact: Kerrie Stewart - Coordinator - 02
Cooma
10 April- Breakfast & Lunch on Youth Homelessness Matters Day
Monaro Crisis Accommodation Service is hosting breakfast and lunch at local high schools to raise awareness for youth homelessness among school students.
Details: 10 April, Local High Schools, 8am-4pm
Contact: Candice Morrell – Manager (Monaro Crisis Accommodation Service)
North Coast
10 April- Couch Surfing Night
-6.30 pm launch by Lismore City Council Mayor Jenny Dowell.
-Experts, along with young people who have experienced homelessness, will chat about the issue.
-Throughout the night our MC Brett Paradise (NRSDC) will guide you through your emergency relief parcel.
-You'll be amazed by talents in the Ready-Steady-Cook-off (using the emergency relief parcel).
-A photo booth will record your thought bubbles on homelessness.
-OASIS documentary on youth homelessness & movies for those who can't sleep.
 * register by 8th April 2013
Details: 10 April, Church of Christ, Rous Rd, Goonellabah (opp. Meridian Health), 6pm
Contact & register: Yvonne Dengate, Youth Connections North Coast, Ph:
Albury
10-11 April, Exhibition Launch & Reception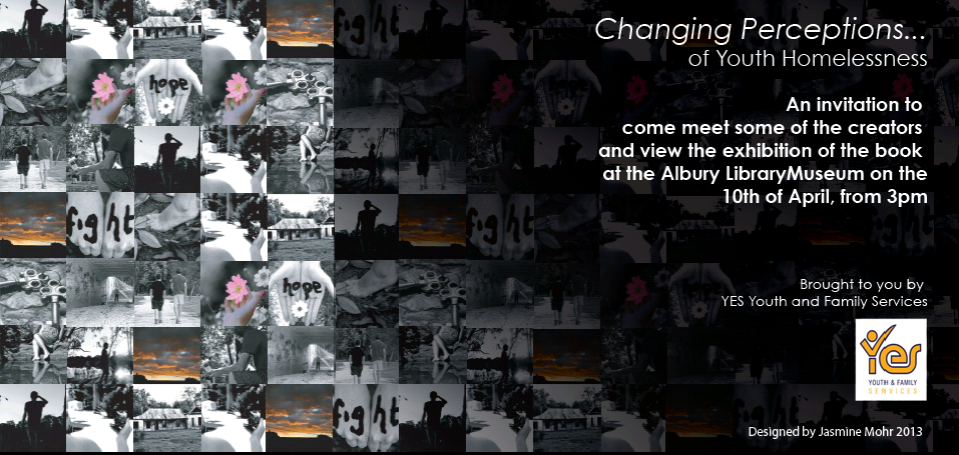 Wednesday 3:00pm - 5:00pm Exhibition Launch, food and drinks provided and an opportunity to meet the creators. A photo exhibition put together by local young people about their experience of homelessness and challenging some of the misconceptions of youth homelessness. The exhibition will be on display throughout April with a night time projection of the photos in the library laneway.

Thursday 5:00pm- 8:00pm- Addicted to Acoustic Gig at QE2- Youth Music Competition and fundraising opportunity for YHMD2013.
Contact: Jon

Disclaimer of liability
The Youth Homelessness Matters Day (YHMD) logo is presented by National Youth Coalition for Housing Inc for the purpose of marketing and promotion of YHMD free of charge for the benefit of the public.
The YHMD logo can only be used for events that have been officially registered with the National Youth Coalition for Housing (NYCH) Inc.
The National Council and its delegates accepts no legal liability whatsoever arising from or connected to, any events conducted as part of YHMD. Services and individuals that conduct events as part of YHMD do so at their own risk.
YHMD events and activities are not substitutes for independent professional advice and users should obtain any appropriate professional advice relevant to their particular circumstances.
Information at events and stalls may include the views or recommendations of third parties, which do not necessarily reflect the views of NYCH, or indicate its commitment to a particular course of action.